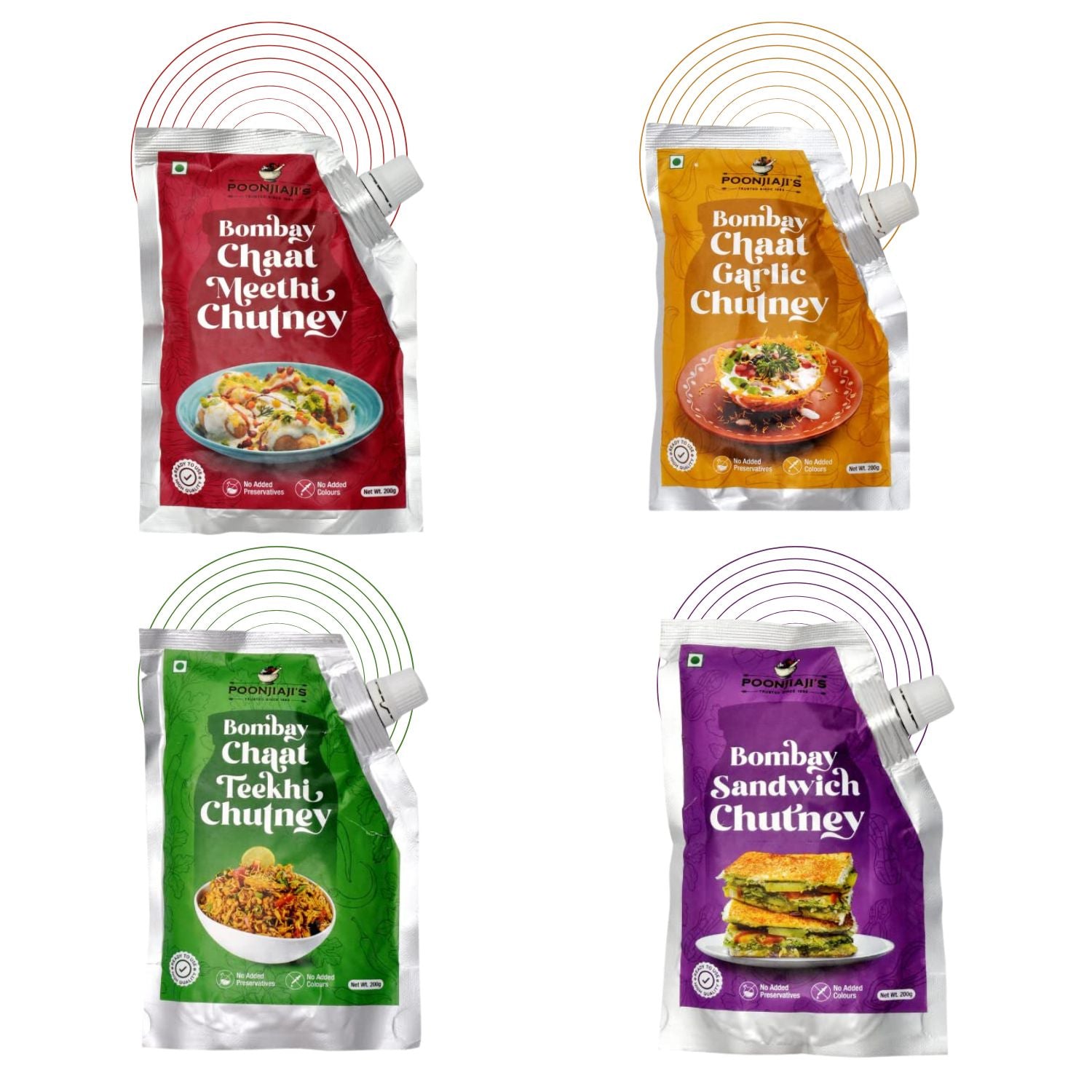 Bombay Chutneys Combo - Garlic, Teekhi, Meethi & Sandwich, 200g X 4
Discover the gourmet delight of POONJIAJI'S Ready-to-Serve Chutneys. Made with the finest ingredients, they perfectly complement a variety of snacks, capturing the authentic flavors of Bombay street food. Elevate your dish with a symphony of sweet, salty, spicy, and tangy notes, indulging your taste buds like never before.

Indulge in the fiery Chaat Garlic Chutney, bursting with spices and flavors, perfect for elevating the taste of bhel puri, sev puri, dahi puri, and more. Its versatility extends beyond Chaat, as it can be savored as a delectable spread in Dosas, or added to dishes like Dal Pakwaan and Vada Pav for an extra zing.
Savor the delightful Chaat Meethi Chutney, striking a delightful balance between sweetness and tanginess. This exquisite chutney is a must-have for creating mouthwatering Chaat delicacies. It also adds a delightful touch to snacks like Pakoda, Vada pav, Samosa, and beyond.
For those seeking a bold and tasteful experience, look no further than our Chaat Teekhi Chutney. Bursting with spicy and tangy notes, it perfectly complements a range of Chaat delights. Not only that, it adds a fiery kick to snacks like Pakoda, Vada pav, Dhokla, and more, leaving your taste buds craving another bite.

Unleash the authentic flavors of Bombay with our zesty Bombay Sandwich Chutney. It is the perfect companion for crafting irresistible street-style sandwiches, including the beloved Aloo Toast, Vegetable Sandwich, Grill Sandwich, and more. Elevate your sandwich game with this tantalizing chutney, infusing each bite with the vibrant essence of Bombay's culinary scene.


Sale price
Rs. 392.00
Regular price
Rs. 436.00
Tax included.

GARLIC CHUTNEY is a spicy, flavor-packed Indian condiment made with red chilies, spices & garlic as the main ingredients. Its pungent yet versatile taste lends its flavor to various kinds of snacks, especially Chaat items.

MEETHI CHUTNEY known as Tamarind Chutney or Imli Chutney is a sweet and tangy Indian condiment made with tamarind, jaggery, and some spices. It has an authentic 'Bombay street-style' taste that goes with all kinds of Chaat items.

TEEKHI CHUTNEY known as Coriander Chutney is a bright and refreshing Indian condiment made with coriander, mint, spices & a kick of chilies. It has an authentic 'Bombay street-style' taste that goes with all kinds of Chaat items.

SANDWICH CHUTNEY is another green chutney made using coriander, peanuts, chilies & spices that is specifically used as a spread for authentic 'Bombay Street-style' Sandwiches.
Bombay Chutneys Combo - Garlic, Teekhi, Meethi & Sandwich, 200g X 4
Sale price
Rs. 392.00
Regular price
Rs. 436.00